DNA is a youth-led social enterprise that provides an innovative space for children to utilize their strengths, discover their identities, find meaning in the community and explore the world connections through the process of art and design.
OUR PROGRAMS
Discovering New Artists (DNA) through its flagship project Art for Change and The Art for Change Atelier provides equal access to arts education for all. These projects not only bridge the gap between the marginalized children and those that have greater access to education and resources but also enable these young learners of 4-18 years of age from all economic backgrounds to develop creativity, open-mindedness, and confidence to present solutions to SDGs and global issues through their arts.
DNA uses modern art influences from international and Pakistani artists from various eras to bring value education and inclusion into one platform using arts and digital learning methods along with promoting solutions to SDGs through artworks made by students. It has also allowed thousands of students an opportunity to showcase their out-of-the-box thinking and creative abilities through their art to thousands of exhibition attendees locally and internationally through multiple exhibitions.
ANNOUNCEMENTS
2nd July, 2023
PROGRAMMES COORDINATOR – JOB Description Title: Programmes Coordinator Organization: Discovering New Artists Report To: Director Programmes Position: Full Time (Hybrid Position – Based in Lahore) Days: 40 hours/week: 8 hours Monday – Friday Contract Duration: Valid till June 2024 (Renewable on Performance) Start Date: July 2023 (Immediately) Discovering New Artists DNA is a youth […]
8th August, 2021
Dear All, It is with pleasure that I invite you to participate in the 8th Art for Change – International Child Art Competition and Exhibition 2021-22 in collaboration with Daastan. One of the largest art projects in Pakistan that does not only reduce inequality, promote social values, gender equality, and women empowerment but also mobilizes […]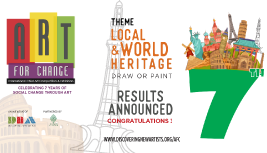 16th April, 2021
Discovering New Artists (DNA) has announced the results for the 7th Art for Change – International Child Art Competition and Exhibition after an interesting jury held in the month of April 2021. Please accept Discovering New Artists' team and its judges' heartiest Congratulations. Thank you to all the 7th Art for Change – International Child […]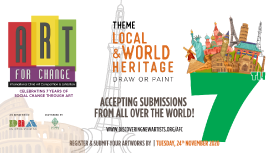 14th August, 2020
Discovering New Artists (DNA) in collaboration with ICOMOS Pakistan has launched the 7th Season of Art for Change – International Child Art Competition and Exhibition on Friday, 14th August 2020. The competition is one of the flagship projects of DNA and one of the largest child art competition in Pakistan. This year, Art for Change […]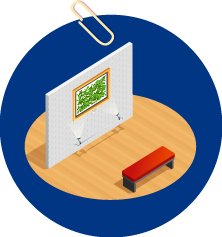 129,948
+
Students educated on SDGs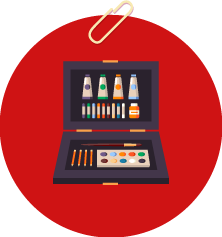 16,200
+
Stationery & Supplies distributed to marginalized students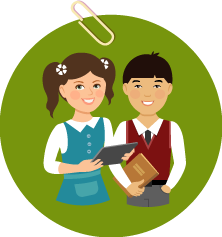 64,974
+
Students participated in the programmes directly
750
+
School & Organizations Reached